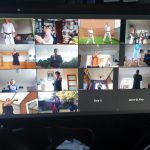 As we are now in tier 4 we will once again resume our Zoom classes.
The Zoom classes will be done in partnership with Vicars Cross.
Please contact Dave Craggs for Zoom login details.
KUGB guests welcome.
We may have additional zoom classes if there is demand.
Tuesday
Wednesday
Friday
Saturday
Note we are logging these training sessions in the dojo database  and they count towards your next grading! You can log in to see your details using your email address. If you don't know your password use the forgot password link.