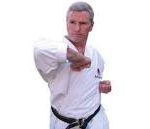 The next grading is provisionally booked for Thursday the 13th of May with Sensei Jimmy Brennan. This will be an outdoor grading at Westminster Park Community Centre.
If the weather is not suitable, we will rearrange as an indoor grading later on in May if the rules permit.
There will be pre grading training for all kyu grades whether you are grading or not starting at 5:30pm. Grading will take place at 6:30. There will be a senior class afterwards for brown and black belts.
Gi's will be required for the kyu grades class and those grading. For the senior class track suits are permitted. If you are grading and can't make 5:30 due to work commitments you may turn up later for the grading.
Please note, you need permission to grade from your Sensei.  We will check the number of times you have trained and whether you have reached the required standard.
You can check your sessions trained online here.
The minimum time between gradings is 3 months. For you first grading you can grade after 2 months. Ideally you should be training at least twice a week.