Day 5 and knee is still sore, but I'm going to train! This is the big day, only one training session but following that is both a Kyu and Dan grading. Thomas Lang will be going for 2nd Dan and Louise Coleman 1st Dan. Pouring down with rain, so we drive over. We have been so lucky with the weather this week, I guess we can't complain.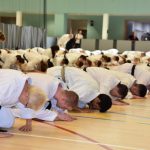 Senior class is taken by Sensei Higgins. Today is review day so we go through all the kata we have practised during the week interspersed with kumite. Again we are joined by Sensei O'Connor.
Great session as usual, final bow and the training is over.
Sensei Poynton gathers everyone round for the final chat of the week. The KUGB are raffling a signed t-shirt for charity. The draw was made and the winner was – Kouki Hirakawa. As the shirt is XXXL it will be a while before it fits him!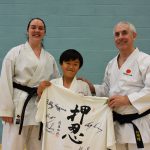 Now back to the room for a quick shower and it's back over for the grading.
There are a lot of very nervous people waiting in the sports hall for the grading to start. Everyone lines up, bows to Sensei Sherry and Sensei Brennan and the grading starts. First on are the brown belts going for Shodan. They all come out in groups and do their stuff. First the kihon, then Bassai Dai followed by the kumite. Kumite is first the prearranged sparring followed by freestyle. Louise Coleman comes up and performs her grading really well. After the brown belts grade, it's the turn of the black belts going for Nidan. Thomas Lang comers up and performs a really strong Jitte. Then the first part of the grading is over.
Now is the time where you see if you have done enough to be called up to do a final kata. Brown belts start being called up and each are given a different Heian kata to perform. Make a mistake here and you will fail your grading with kata only. Group after group get called out and no Louise. Nerves are tense, but, yes, she gets called up. A really good performance of Heian Godan and now to wait for Thomas.
Thomas gets called up pretty quick and again performs a strong kata, this time Jion. And the grading is over.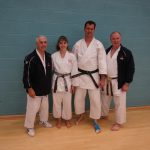 Then everyone gathers in front of the table for the announcements. Louise Coleman Shodan! Thomas Lang Nidan!
Great result and there will be celebrations to come.
Lancaster 2019 is now over. Time to finish packing and return home. Looking forward to Lancaster 2020!