Day 4. Sore knee and general aches and pains. Thomas Lang is planning to take the day off to rest before the Dan grading session on Friday. I was planning to train 2nd class, but decided to also have a rest day. So I went over to the sports centre to take photos of the first class.
This time the senior class is taken by Sensei Poynton. Usual technical session with kata of the day being Tekki Sandan.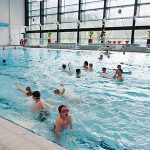 Back to the room and we can plan a day out.  The location of Lancaster is great for days out as you have the coastline nearby and of course the Lake District. This alongside the available sports facilities is one of the reasons this is such a great holiday and not just for those doing karate.
George decides to stay and train with Sensei Rhodes as he really enjoys the bunkai sessions.
So that leaves Thomas and Monika and myself to plan our trip.
We pick on Levens Hall near Kendal. This is a really nice Elizabethan house with spectacular gardens.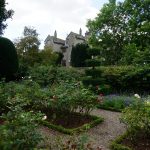 After a nice cup of tea with cake with then moved on to SilverDale on the coast, this is National Trust and has wonderful views.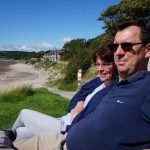 Quick pint in the local pub before heading back for a homemade chicken and pasta bake. The again onto the Herdwig for a few pints before bed.