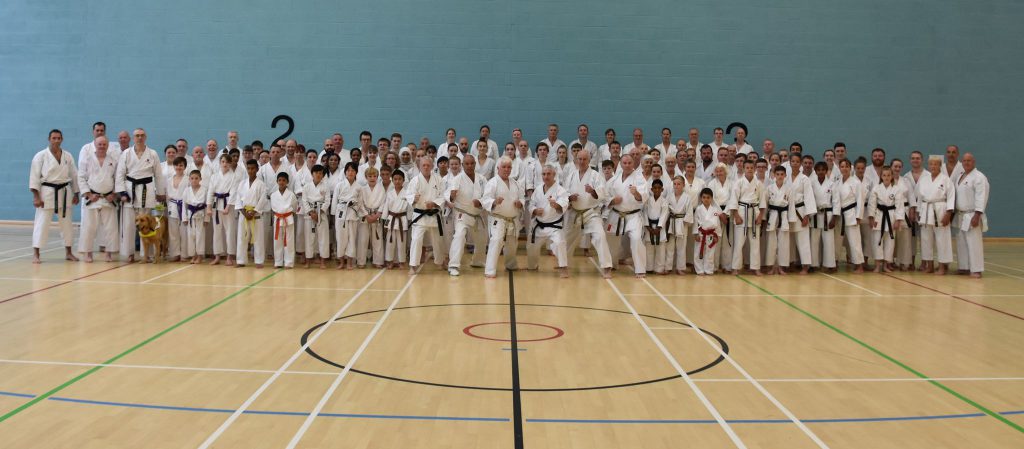 And here we are day 1. I look out of the windows and…. no rain – phew. Quick cup of tea and it's gi on ready for the first walk up to the sports centre.
It's always great to chat to fellow karateka and see all the old faces from previous years.
I had an a knee op  last October which was successful, but I was still getting pain. I have recently found out I have a cyst on the knee and also a bad back, so my plan was to take painkillers and train through. Guess who forgot to take his pain killers this morning!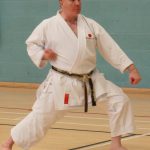 So after the warm up it was a session with Sensei Sherry with Sensei Frank Brennan always there watching. And we know he does not miss ANYTHING! Starting off with basics but in great detail we quickly moved on to kumite. I partnered up with Adam Willsmore, a dedicated regular to these events. I was pleased my knee and back held out. Next on to Bassai Dai in great detail. As usual with Sensei Sherry we finished off with more kumite. So my first proper training session since my knee op 9 months ago was over. And a bonus was getting through the whole class without Sensei Brennan booming MR CRAGGS <insert something wrong here>.
Back to the room for breakfast and change out of my gi before the next session.
For the last few years I have cut back to one training session  a day. During the classes where I'm not training I take photos, often along side Richard Naylor-Jones who takes the official KUGB photos.  I then post my photos onto Facebook. Many a time I have prompted a Facebook profile picture change.
Then a nice steam and sauna before the walk back.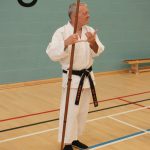 In the afternoon there is a BO class taken by Sensei Ian Maclaren. I drove over to take my son George to attend the class. I have joined in myself in previous years, but I'm saving my energy for the main classes this year.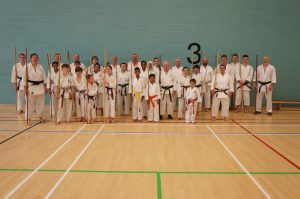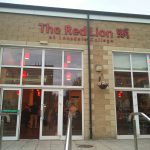 A nice meal and then it's onto the social at the Red Lion on campus. Nice to see everyone, but sadly the University seemed to forget that a bar really needs beer.
After a while a few of us went over to the Grad Bar (aka the Herdwig) for some proper beer.
It was really nice discussing karate with Senseis Billy Higgins, Bob Rhodes and Ian MacLaren.
Then to bed to prepare for Day 2.